Oh my…seems as if summer is just racing by! Well, before the kiddies go back to school and while you can still wear white, check out some really awesome activities going on in the city.
1. What Cheer? Brigade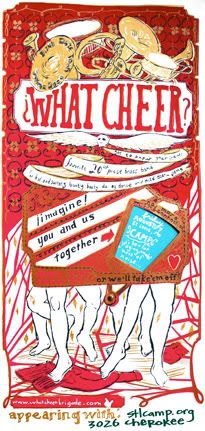 Friday, August 7 @ 6 pm
CAMP, located at 3026 Cherokee St.
Cost: $5-15
A 19-piece brass band, all the way from Providence, RI will be rocking Cherokee St. on August 7. What Cheer? is not your typical marching band! According to their website:
"We play Luddite Hardcore, loud, mobile music requiring no electricity. We are a party band, and our sound incorporates elements of the following musical traditions: Bollywood, Balkan, New Orleans, Samba, and punk; that's the short list."
This is going to be a very cool, original event in one of St. Louis' up-and-coming neighborhoods. After the performance, I suggest grabbing some pizza and beer at The Stable, which is just down the street. I will most definitely be there, celebrating my new 'hood!
2. The Girl's Guide to The Galaxy Presents Bobby Long
Sunday, August 16 @ 8 pm
The Firebird, located at 2106 Olive Blvd
Cost: $15-18
Calling all Twilight fans (yes, I got sucked in just a few months ago, so sue me)! Bobby Long co-wrote many of the songs on the Twilight soundtrack, so prepare yourself for screaming female fans of all ages to be there. And in the spirit of the whole "teen vampire romance" theme, the Girl's Guide is also hosting a pre-concert blood drive.
If you haven't heard of the GGG, I recommend that you check out their daily blog- there's a little something for everyone in there, including the men folk! These gals are funny, sweet, savvy and are all over St. Louis social media scene.
3. The LOT music festival
Saturday, August 29 @ 2 pm- 12:30 am
Schlafly Tap Room, located at 2100 Locust Street
Cost: FREE
Come join Metropolis for our 11th annual LOT music festival, held at the Schlafly Tap Room parking lot downtown. From 2-5 pm, there will be a mini craft fair, Royale happy hour, outdoor bar games, business and non-profit "meet and greet", pics with Fred Bird, dunk tank- and much more!
Bands start playing at 5 pm and go all through the night. This year's lineup is as awesome as ever! Please come join us for a beer, some great food and entertainment and to support our efforts!
If you want to volunteer at the LOT, please contact Chrissie Conboy: social@mstl.org! And if you have any questions about the LOT, please let me know!
Cheers!
Abby Schwarz
lot@mstl.org
Fatal error
: Allowed memory size of 33554432 bytes exhausted (tried to allocate 87 bytes) in
/data/18/1/150/72/1802561/user/1951793/htdocs/blog/wp-settings.php
on line
307